Fathers Day is a week from Sunday. I have no idea what I am doing for my husband, but let me assure you it will not involve heels and black lace. Believe me, he would like it, any man would, however my friend Harry Hoover told me today that all he wanted "on Father's Day, give me some time to kayak with my lovely bride."
Did you gush as much as I did when I read that?
So, I thought that I would assemble a stylish list for Dad, well things that I know my husband would love. What am I getting him? No idea. However, there are things that he would definitely like.
First up?
The Apple iPad
.
Who doesn't like it? It's slim, portable and handy in a situation when you don't want to lug your laptop around.  They are sleek and sexy and definitely on my list to consider this year.
Smythson
makes gorgeous diaries, but they also make fabulous leather products that you don't want to live without. I am in love with their Two-Tray Cufflinks Box. Since my husband prefers french-cuff shirts, we have a few pairs of cufflinks. I liken them to my needing multiple pairs of earrings.
Belts are always a nice gift for dad. I prefer the ones from Wiley Belts, located in Charlottesville, Virginia. Still made in the United States, the quality is undeniable and artisan worthy. These aren't belts that are going to last a year at most, but given proper care, will last well beyond the normal life of an inexpensive department store belt.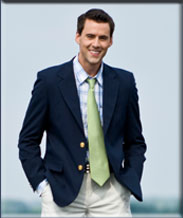 Well dressed men, even those lost in a cube farm, still need a classic navy blue blazer. The Anderson-Little Classic is the perfect one for Dad. Sharp, mid-weight wool is perfect for year-round use and complements any business wardrobe.
How many times have you given Dad a tie that he loves? Well, why don't you give him a tie he will really love this year from David Hart & Co. Hand-tailored in NYC, their whimsical take on ties and quality craftsmanship will not only win Dad over, but will make him want to reach for it every single morning.
Finaly, Baxter of California. Launched in 1965, this eponymous men's care line is some of the finest in good grooming. After all, it was created during the 60's, a swinging time that deemed a well turned out man as par for the course. Their sexy double edge safety razor is tops in keeping a mans face soft and kissable.  Something every Dad wants.
Even after going through this post, I am more confused than ever. But, I will tell you, if my husband does get something off of this list? He will be a lucky Dad indeed.
---
Mommyality combines Mommy and Reality. You never know what's going to happen, nor do you want to know.
Read more from this author
---